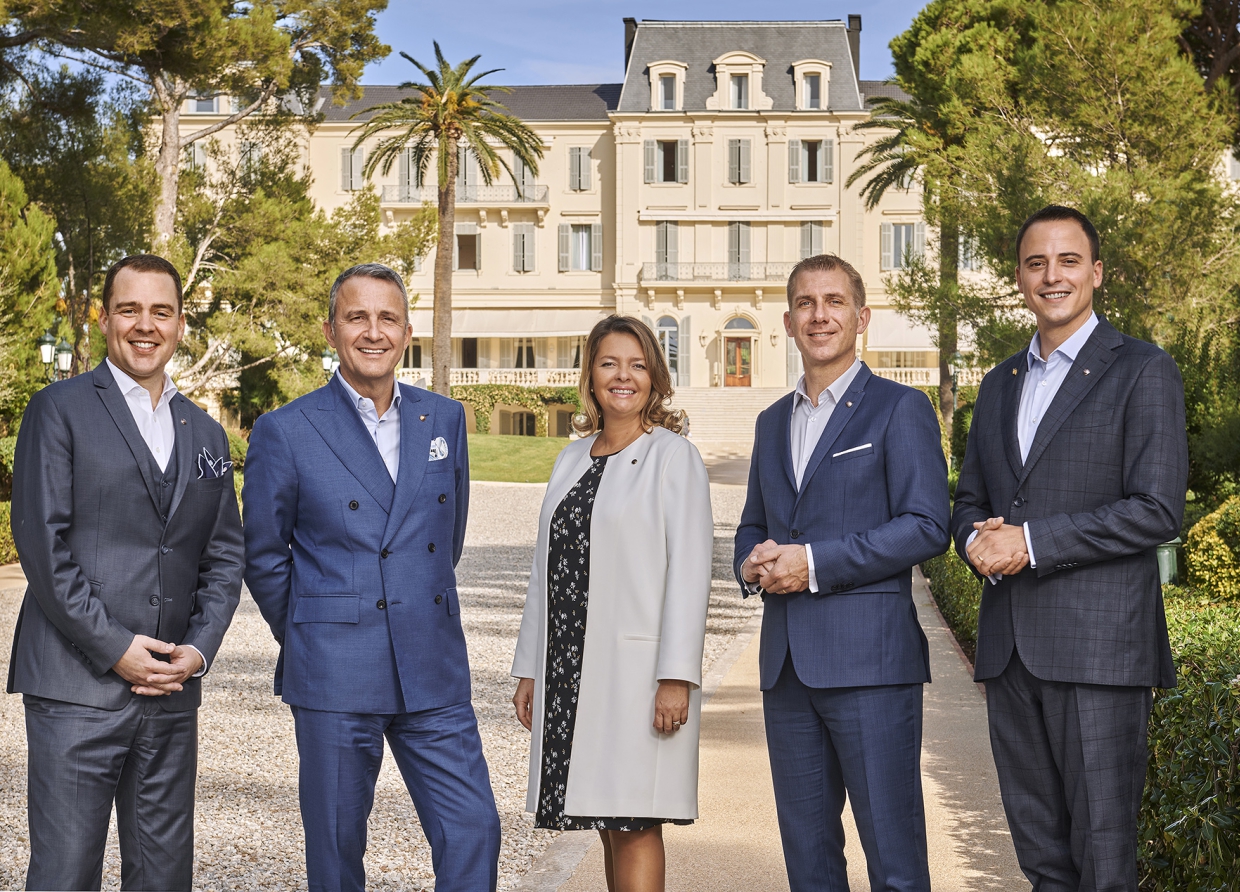 DISCOVER THE MASTER ARTISANS CREATING PARADISE AT THE HOTEL DU CAP-EDEN-ROC
The iconic Hotel du Cap-Eden-Roc announces its innovative plans for the 2023 season, including the appointment of a talented team to lead the way and enhance the guest experience.
The Hotel du Cap-Eden-Roc is set to innovate and revitalize for the 2023 season, continuing to welcome loyal guests for generations. Employee loyalty is just as strong, with some having served for years. The Oetker Collection is dedicated to helping staff progress and advance within the group. Philippe Perd, Managing Director of the Hotel du Cap-Eden-Roc, proudly announces the appointments of Sophie Volant as Hotel Manager, Thierry Demolliens as Resident Manager, Jérémy Heuline as Head of Food & Beverage, and Jérémy Berthon as Restaurant Manager of the Eden-Roc and Louroc restaurants.
Sophie Volant - Hotel Manager
Sophie Volant, a graduate from the Ecole des Arts Culinaires et de l'Hôtellerie de l'Institut Paul Bocuse in Lyon, boasts an impressive background working in prestigious establishments worldwide, including the Hôtel du Palais Biarritz, Hôtel de Crillon in Paris, The Grand Floridian Resort & Spa in Orlando, and the New York Palace Hotel in New York. With a wealth of experience in various roles such as catering, accommodation, reservations, events, sales, and marketing, Sophie's passion lies in connecting with customers, hoteliers, craftsmen, artists, and partners to create unforgettable experiences.
Sophie has had an impressive career journey in the hospitality industry. From her early days at the Hôtel du Palais Biarritz to the Hôtel de Crillon in Paris and The Grand Floridian Resort & Spa at Walt Disney World in Orlando, she has held various roles in catering, reservations, sales, and marketing. Her passion for creating unforgettable experiences for customers, hoteliers, and partners has been a constant driving force throughout her career.
Sophie's journey at the Oetker Collection has been one of growth and success, beginning as Sales Director in 2008, then becoming Regional Head of Sales and Marketing for multiple Oetker Collection establishments, and ultimately being appointed as Resident Manager of the Hotel du Cap-Eden-Roc in 2019, and now Hotel Manager for 2023. Sophie is dedicated to preserving the heritage and history of this iconic hotel while continuing to showcase it as a luxury destination.
Thierry Demolliens - Resident Manager
Thierry Demolliens began his illustrious career in the luxury hotel and restaurant service sector in 1997 after graduating with a BTS in Hotel and Restaurant Management. He gained valuable experience at the Sofitel Le Méditerranée Hotel in Cannes and Le Napoléon restaurant in La Turbie before becoming Director of all four restaurants at the Four Seasons Terre Blanche Hotel in Tourrettes in 2012. During his tenure there, he was awarded the coveted title of Meilleur Ouvrier de France.
Thierry Demolliens joined the Hotel du Cap-Eden-Roc team in 2018 as Head of Food & Beverage and will now serve as Resident Manager alongside Sophie Volant in 2023. He is known for his hands-on approach and attention to detail, and his leadership style is based on promoting a family spirit, elegance, friendliness, and genuine kindness. As Nelson Mandela once said, "I never lose. Either I win or I learn," and this is one of Thierry Demolliens' favorite quotes.
Jérémy Heuline - Head of Food & Beverage
Jérémy Heuline has gained extensive academic and professional training in the hotel industry, having worked in various countries such as Spain, the United States, Reunion Island, and Dubai. His dedication, exemplarity, and creativity have led him to choose the luxury hotel industry, constantly renewing and challenging himself, and working with an international clientele. Notably, Jérémy took part in the opening of the Mandarin Oriental Paris in 2011, where he worked alongside the great French chef Thierry Marx.
He rose through the ranks to become Restaurant Manager of Le Camélia by Thierry Marx and Assistant Restaurant Manager for both restaurants. Jérémy joined the Hotel du Cap-Eden-Roc in 2019 as Restaurant Manager of the Eden-Roc restaurant and the Michelin-starred Louroc restaurant. In 2023, he was promoted to Head of Food & Beverage, where he supervises the restaurants and bars of this legendary establishment, driven by his passion for the restaurant business and his love for teamwork and meeting customers.
Jérémy Berthon - Restaurant Manager at the Eden-Roc restaurant, the Louroc restaurant as well as
Wine Director
Jérémy Berthon's career in the world of wine began with a sommelier internship at Le Louis XV in Monaco. Since then, he has worked at some of the most prestigious establishments in France, including the Château de la Messardière and Cheval Blanc Courchevel. Jérémy's passion for wine was nurtured by some of the industry's most respected professionals, and he has been fortunate to work with them, including Sébastien Labe, Head Sommelier at Cheval Blanc, and Damien Azemar, Head Sommelier at the Four Seasons in Megève.
In 2018, Jérémy was appointed Head Sommelier of the Hotel du Cap-Eden-Roc, where he oversees the sommellerie at the iconic Eden-Roc and Louroc restaurants. As of 2023, he has been promoted to manager of these restaurants, where he continues to ensure that the hotel's guests are treated to an exceptional dining experience.
Their shared goal is to uphold the tradition of excellence and quality of service that has made the Hotel du Cap-Eden-Roc one of the jewels of the international hotel industry. An exciting evolution for the legendary hotel, the promotions affirm Oetker Collection's commitment to creating an atmosphere of belonging.
Hotel du Cap-Eden-Roc
Boulevard John Fitzgerald Kennedy
CS 10029
06605 ANTIBES CEDEX
www.oetkercollection.com/fr/hotels/hotel-du-cap-eden-roc